C&D Clean Energy recently announced the cooperative partnership with ZES Solar on 1.1GW Solis brand solar inverters supply chain services. C&D Clean Energy has become a Solis Inverters' strategic distributor for supplying with commercial, industrial and utility solar inverters since 2021.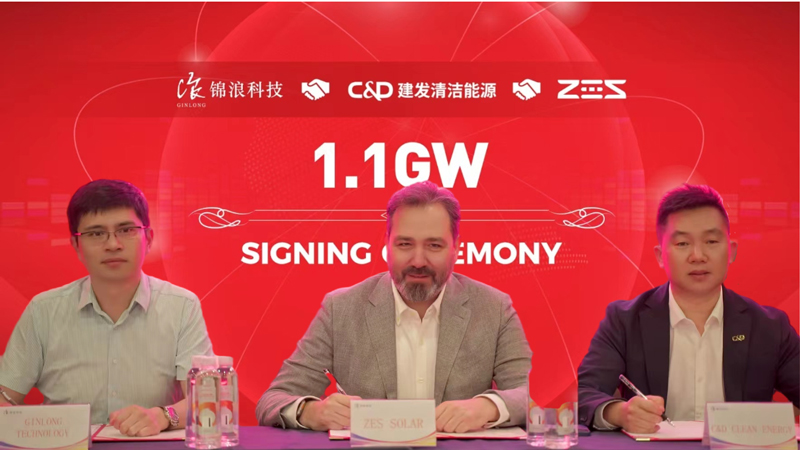 Agreement has been signed between ZES Solar, one of the leading companies in renewable energy in Turkey, C&D Clean Energy, a world-leading clean energy supply chain service provider, and Solis (Ginlong Technologies), one of the world's largest and most experienced solar inverter manufacturers. According to the agreement, C&D Clean Energy will provide with totally 1.1GW Solis brand inverters for ZES Solar. This is another successful cooperation among the three parties based on last year's 900MW cooperation.
C&D Clean Energy, a renewable energy supply chain service provider headquartered in Nanjing, China, which is affiliated to C&D Inc., itself part of the C&D Group, a Fortune Global 500 enterprise which ranked 77th in 2022. C&D Clean Energy is committed to providing high-quality products, solar power project investment and project O&M associated with supply chain and industrial chain integration.
Evaluating the cooperation of C&D Clean Energy, Solis and ZES Solar, CEO of ZES Solar, Mr. Sinan Ak said , 'This cooperation among three sides will pave the way for more cost-effective projects. Updating itself in line with the changing solar energy market dynamics, ZES Solar will be able to not only respond quickly to the needs of projects, but also further develop distribution markets worldwide with the full range of support and services from C&D Clean Energy on Solis' innovative technology products.'
On behalf of the company, Mr. Yiming Wang, President of Solis (Ginlong Technologies) expressed his gratitude to C&D Clean Energy and ZES Solar for continued trust and support for Solis. He said, 'We are very excited about this deeply cooperation with C&D Clean Energy and ZES Solar. It's a partnership that we hope to build on over many years to come and Solis is looking forward to all the opportunities this will bring us now, and in the future.'
'We are very glad to cooperate with the two great partners.' Commented Mr. Michael K. Lee, C&D Clean Energy's General Manager, 'We are always aiming to present value-added supply chain services solutions, industry-leading reliable products and different business models in the field of solar energy in a wide geography, especially in Turkey. Tapping into our expertise in supply chain and in-depth channel operation, we will help to explore and bring more opportunities locally and globally for our customers.'