June 15th, 2023, Intersolar Europe, C&D Clean Energy, a leading Renewable Energy Supply Chain Service Provider, has announced a strategic partnership with ASTORIOS Holding Inc. on solar products supply. Under the agreement, C&D Clean Energy will leverage its expertise in channel resource and marketing to provide ASTORIOS Holding Inc. with 100MW solar products supply services covering solar panels, solar inverters, and energy storage system solutions at the first stage.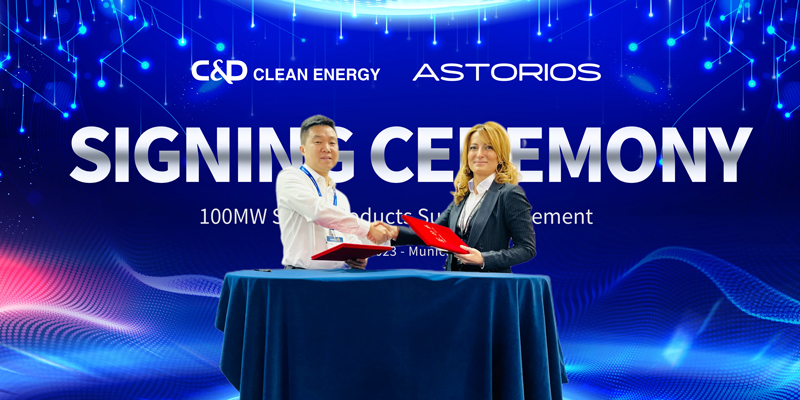 ASTORIOS Holding Inc. is a leading renewable energy company based in the US, dedicated to providing customers with high-quality and reliable solar products and solutions. With extensive business global coverage, ASTORIOS brand has established a strong presence in the markets of the Americas and Eurasia. The agreement between C&D Clean Energy and ASTORIOS Holding Inc. will allow both parties to enhance each other's strengths and expand their market share in Europe, LATAM and Central Asia.
"This partnership will enable us to better address the diverse needs of customers, that supply to utility-scale projects as well as to residential rooftop installations," said Ms. Lela Kurtanidze, CEO of ASTORIOS. "We are enthusiastic about collaborating with C&D Clean Energy to further expand our presence in the growing markets, as well as to promote the renewable energy solutions worldwide."
"This partnership marks a significant milestone in our continued efforts to integrate global resources and provide customers with more professional, more focused, and more efficient value-added services. We are excited about working closely with ASTORIOS to achieve our shared goals and to explore and bring opportunities to our customers locally and globally." Mr. Michael K. Lee, General Manager of C&D Clean Energy, commented.